> Home
Downtown Idea Exchange Web Extras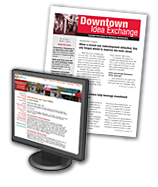 Each month, Downtown Idea Exchange provides detailed case studies, practical news reports, how-to information, and real-world examples of how traditional downtowns, central business districts, and main street communities are growing and prospering.
We often have valuable background material, additional information, or related resources that we just can't fit in the newsletter. These are presented below.
November 2017
Pop-up matches entrepreneurs with resources to spur business creation — The JumpStart StartUp is a free pop-up program in Philadelphia, PA, offering entrepreneurs information and mentorship for every stage of business startup and growth. View promotional videos about the program.
Phased Complete Streets project improves safety, accessibility, and more — Millburn, NJ, adopted a Complete Streets program in 2014, outlining a series of goals and objectives to make streets safer for pedestrians, improve traffic flow, address intersection congestion, and calm traffic where appropriate. See Millburn's Complete Streets documents:
Community surveys help identify needs of rapidly growing neighborhood — The NoMa Business Improvement District in Washington, D.C., is rapidly transitioning from mostly office space to a popular mixed-use area. Read an archive article about the NoMa BID's successful pop-up, The Lobby Project.
Green projects manage stormwater, improve aesthetics — Fayetteville, NC, built its first green street in 2014 along a two-block section of a downtown thoroughfare already slated for redevelopment. Watch a video and see a brochure about the Fayetteville Green Street.
To make the most of federal buildings, partnership is essential — Denise Turner Roth, former head of the U.S. General Services Administration, in an article from Governing magazine, stresses the importance of strong partnerships between local community leaders and the federal government.
October 2017
Walkability drives development, requires place management — WalkUP Wake-UP Call reports have been generated for cities nationwide. See reports for the three cities below:
Grappling with short-term rentals — The Neighborhood Planning Committee in St. Paul, MN, is working to balance the benefits of participating in the sharing economy with some of the negative impacts of short-term rentals via Airbnb and others. Read the full study memo.
September 2017
PARK(ing) Day events remain popular, lead to permanent installations — PARK(ing) Day, observed on the third Friday each September, sees parking spaces transformed into temporary public parks.
Rotational Public Art Program defines and refreshes downtown's "main street" — Fremont, CA, has lacked a defined downtown until recently. Now, implementation of the Downtown Community Plan adopted in 2012 is underway, and a strong public art program is integral to defining and enlivening the area. To read details of the program, see pages 90-96 of Fremont's Downtown Community Plan.
Streetscape upgrade meets many goals — The streetscape project currently underway in Rosslyn, VA, aims to strengthen the city's brand, decrease visual clutter, and improve the pedestrian experience. See the Rosslyn Streetscape Master Plan.
Focusing on civility downtown — As part of its Downtown Safety and Civility Dialogue and Deliberation Project, Bloomington, IN, has released a set of recommendations focused on encouraging appropriate behaviors. See the report here.
August 2017
Streetcars see success despite naysayers — Successful streetcar programs like one in Kansas City, MO, have other cities planning expansions and seeing new development before their inaugural streetcar lines have even launched. Read an archive article about other streetcar projects.
Repurposed gas stations become vibrant public spaces — The reuse of old gas stations began to grow in 2002 when Congress authorized the Environmental Protection Agency to use brownfield funding for cleanup of properties with low-risk underground storage tanks, such as those used for fuel. Click here for more information about the EPA Brownfields program.
July 2017
New program aims to expand and support startup and creative community — A rapidly evolving small business scene in Dayton, OH, inspired the launch of the Start Downtown initiative last fall. View the Start Downtown Priority Recommendations report.
Videos attract startups — As part of the Start Downtown initiative by the Downtown Dayton Partnership, one volunteer task force focused on how to promote startup businesses. A series of one-minute videos featuring individual small business owners received over 160,000 views. See two of the videos here.
Supporting food-based startups fills vacancies, creates jobs, adds to the local dining scene — The National League of Cities' new action guide, Food-Based Business Incubator Programs, offers an overview of both kitchen and farm incubator programs, as well as guidance on how downtown leaders can support emerging strategies that promote entrepreneurship and strengthen local food systems.
Downtown retail, ready for next chapter — In downtown Madison, WI, the Central Business Improvement District has been studying the health of downtown retail. An in-depth report prepared for the group looks at industry-wide trends, the profile of downtown consumer segments, and the condition of the downtown market.
Tools and resources to address homelessness — Cities of every size are grappling with increasing homelessness, lack of affordable housing, and often inadequate mental health and addiction treatment systems. Read the Association of Washington Cities' report, Homelessness & Housing Toolkit for Cities.
June 2017
Unique twist on banner program generates partnerships and profit — The State Street Flag program in Santa Barbara, CA, sees 125 colorful flags flying from city lampposts. The city partners with 40 nonprofits on a rotating flag display. View the State Street Flag Program Policies and Letter of Agreement.
Strategic outreach efforts fill vacancies — In the wake of the 2008 economic crisis, downtown Colorado Springs, CO, faced years of high vacancy rates. Thanks to outreach to property owners, a vibrant pop-up program, and careful vetting of potential new businesses, today the city boasts a 2.8-percent vacancy rate. See the HolidayPop-Up application and the Quick Facts Restaurant & Retail data sheet.
Crosswalk art a safety and funding concern — In light of Federal Highway Administration concerns about safety, some cities are prohibiting artistically painted crosswalks. View the full Memorandum regarding colored pavement here.
A new approach to litter — Keep America Beautiful will be employing UK nonprofit Hubub's Ballot Bin which uses custom designed ashtrays and a "voting system," to allow users to vote on predetermined questions by choosing one of two slots to dispose of their cigarette butts. See Hubub's Idea Catalog.
Historic waterways to make city more accessible, active, vibrant — For years, the extensive canal system in Lowell, MA, powered the city's mills. Today, the canals are bringing new vitality to the downtown and city as a whole. Read the Lowell Waterways report.
Coming to downtown streets, self-driving delivery robots — Autonomous robots may soon be making deliveries on nearby downtown streets. Watch a video of a robot in action.
May 2017
New mixed-use facilities an important piece of revitalization puzzle — In Atlantic City, NJ, the Wave Parking Garage & Mixed Use Center is a $30 million project strategically located to entice and welcome drivers from the nearby Expressway.
And in New Brunswick, NJ, a new use is being constructed on top of a parking garage with the Gateway Transit Village.
Creating excitement is key to revitalization efforts — "The best way to bring life downtown is to bring lives downtown," says Ron Drake, developer and author of Flip this Town, who believes that community restoration can happen in any town, as long as the right connections are made. View promotional videos used in the Okmulgee, OK, revitalization effort.
New Lighter, Quicker, Cheaper toolkit is available — The Better Block Foundation has released the Wikiblock Library: A Toolkit for Creating Better Blocks, an open-source toolkit of designs for benches, chairs, planters, stages, bus stop shelters, beer garden fences, and kiosks.
April 2017
Flexible federal program promotes innovation, regional collaboration, and more — The Economic Adjustment Assistance Program aids cities suffering from a variety of adverse economic impacts, such as cutbacks by major employers, military base closures, natural disasters, and other harmful circumstances. Read more about the program, as well as other Economic Development Administration tools.
Trails connect downtown to the region, and to economic opportunity — Creating city-center greenways and trails that provide connections to surrounding neighborhoods, points of interest, and regional trail networks offer many benefits, say proponents of the Saratoga Springs Greenbelt Trail in Saratoga Springs, NY. See the Saratoga Springs Greenbelt Trail Feasibility Study for more information.
Leveraging existing assets to create a successful business cluster — One of the many tools used to position Lititz, PA, as a foodie mecca is this brief video.
Breaking a long-range plan into smaller strategic bites — The city of Troy, AL, has released its Vision 2026 plan after an extensive public outreach process, which included citizen meetings, an open studio workshop, online surveys, and more.
March 2017
Landscape arts masterplan helps shape new downtown district — The Sugar Hill district in Midtown Detroit, MI, has a storied history as an arts and entertainment district, but in recent decades has become associated "more with parking and its in-between spaces than as a place unto itself," says the National Endowment for the Arts. But thanks to a five-year landscape arts masterplan, this perception is changing.
Strategic development attracts influx of millennials — A Demographics Report issued by the DDA of Miami, FL, notes that the city's downtown population has grown by 150 percent since 2000, with 90,000 people now calling the urban core home. See the 2016 Greater Downtown Miami Demographics report.
Innovative libraries are a downtown asset — At the redesigned and expanded Lafayette Library and Learning Center in Lafayette, CA, a consortium of science and cultural institutions is keeping the library relevant. "The Lafayette community has taken ownership of its library and the number of people who come through its doors everyday has more than tripled," writes Anna Pratt in a recent article for Sharable.net, a news site for the sharing economy. Read the article here.
Development boom spurs new marketing campaign — A new marketing campaign launched last summer in Danbury, CT, seeks to highlight the downtown's desirability and affordability when compared to nearby city centers. View a We are Downtown Danbury video.
Public art plan guides city — The Athens (GA) Cultural Affairs Commission has completed work on a comprehensive master plan for integrating public art into the community.
Edmonton to light iconic buildings — Edmonton, AB, Canada, is joining a growing number of cities that are creating a sense of place and enhancing economic development with lighting. See details on the program, including the guidelines and application.
The future of downtown parking — Parking technology, the role of parking enforcement officers, and surge pricing are expected to take center stage as downtowns tackle the age-old question of how best to meet downtown parking demand. Read an article on page 36 of Parking Today by Kevin Dougherty.
February 2017
Report quantifies the value of the downtown — Increasingly, organizations are supplementing their State of Downtown reports with economic impact reports. Click here to view the Downtown Tempe Economic Impact Report.
Communities continue to seek public restroom solutions — Downtowns need people, and people need restrooms. However, the details of cost, maintenance, safety, and location continue to challenge downtown leaders trying to address this basic public need. Read an archive article on integrating public restrooms into downtown areas.
Welcome visitors with appropriate gateways — The Georgetown BID in Washington D.C. has requested design proposals for gateways to the historic district. Read their full RFP.
Downtown shows off its tech community — For the second annual A2 Tech Trek in downtown Ann Arbor, MI, local technology companies opened their doors to the general public with the goal of inspiring students to become future entrepreneurs, job seekers to find new opportunities, and for local residents to support and learn more about the entrepreneur community. Watch a video about the event.
January 2017
Looking Ahead to 2017 — About one third of aging business owners plan to transfer their businesses to the next generation. Another third is hoping to sell to a third party. Read Main Street Wisconsin's information sheet, Business Transition Planning 101.
Creative development model revives downtown neighborhood — Neighborhoods adjacent to downtown have significant impacts on the city center. Investments in these areas can yield a huge return on investment for the downtown, and provide successful models, as well. Read the Urban Land Institute's Reaching for the Future: Creative Finance for Smaller Communities.
Lighting projects enhance downtown economic development, revitalization, and tourism — Case studies show significant social and economic impacts of light installations. See the report Ambient Light Empowers Places.
Walk audit engages and informs — AARP provides a downloadable Walk Audit Tool Kit and Leaders Guide that can be used by professionals or local citizen groups.
Big ideas, small ideas, fun ideas — The team at real estate blog Curbed has assembled 101 DIY ways that citizens and community leaders can improve their cities.
New facility provides parking and community space — An Automated Vehicle Storage and Retrieval System (AVSR) is helping the city of West Hollywood, CA, meet parking needs and provide desirable amenities in a much smaller footprint than a conventional parking structure with a similar capacity. Watch a video of the AVSR system in operation.
December 2016
Facade renovation program covers entire blocks, and costs property owners nothing — In Rawlins, WY, 62 of 95 downtown businesses are undergoing grant-funded improvements all at once. See their RFP for architectural and engineering work.
Achieving facade renovations on entire blocks — In Fontana, CA, the city's redevelopment agency offered to fund facade upgrades with no match required from owners. Read more about their facade improvement program.
Creative corridor spurs economic development — The downtown turnaround in the state capital of Little Rock, AR, is attracting investment to the long-neglected heart of the city. Click here to learn about the Little Rock Creative Corridor Plan.
Public financing tools and development incentives — The Urban Land Institute report Reaching for the Future presents six case studies that illustrate how communities have used partnerships and combined different sources of financing to bring about dramatic change in their communities.
Encouraging greening and public art — The annual Greening and Public Realm awards in Minneapolis, MN, aim to both recognize and encourage placemaking activities in the city center. See a brief video featuring several winners.
Keeping downtown streets safe — During October, improv actors dressed as the Grim Reaper frequented sidewalks around particularly busy intersections in Pittsburgh, PA, and engaged pedestrians in playful banter. Watch a video of the Grim Reaper in action.
November 2016
PARK(ing) Day continues to influence potential public spaces — PARK(ing) Day began in 2005 with one San Francisco business owner converting a single metered parking space into temporary public space. It has since grown into a global movement.
Regional business incubator locates downtown — A new business incubator in downtown Roanoke, VA, will provide work space, mentoring, and connections to investors. View the full strategic work plan.
October 2016
Turning under-utilized alleys into liveable lanes — The Laneway Project in Toronto, ON, Canada, is an innovative urban design and planning organization striving to change the way people view and use city center laneways, or alleys. Click the links below to learn more.
Grant program makes businesses more accessible — The city of Durango, CO, has formed an Accessible Communities Team which offers grants for business owners to conduct accessibility assessments and make improvements. View the Accessible Communities Team program flier.
Data, outreach, and subsidies draw more retailers downtown — During the first 18 months of operation, a retail recruitment campaign in downtown Windsor, ON, Canada, attracted seven new businesses and has been credited with a 25-percent decrease in vacancy rates. See the Downtown Windsor Retail Recruitment Campaign project description.
September 2016
New program aims to reduce homelessness — Downtown leaders throughout North America are seeking ways to address stakeholder concerns around homelessness. The ambitious Housing First Charlotte-Mecklenburg initiative in Charlotte, NC, is seeing success. Read the Housing First Charlotte-Mecklenburg Progress Report.
Grant funds create a more attractive outdoor dining scene — The Pittsburgh Downtown Partnership in Pittsburgh, PA, has created the Paris to Pittsburgh Sidewalk Activation and Facade Improvement Matching Grant Program to encourage restaurateurs to bring new vitality to city streets. Read an archive article about the Paris to Pittsburgh program.
Attracting infill development — The U.S. Environmental Protection Agency has released a report, Attracting Infill Development in Distressed Communities: 30 Strategies, which points the way for infill development. Read the report.
Inaccurate perceptions, and a lack of education and enforcement mask plentiful parking — A recent parking study in Turlock, CA, reveals that even though 50 percent of the 3,872 available parking spaces are underutilized, 72 percent of residents believe there is a parking shortage downtown. View the full parking study.
Gap funding drives new-home construction in historic city center — A new Downtown Residential Development Program approved in June in Henderson, NV, aims to create more density in the historic city center while also adding diversity to the types of homes available. See the Henderson Downtown Residential Development Program Guidelines and Application.
Non-traditional drivers of economic development — The report, Creating 21st Century Communities: Making the Economic Case for Place, demonstrates the relationship between eight community "assets" and economic prosperity.
August 2016
Usage data helps public space evolve — The University City District in Philadelphia, PA, "humanized" a 33-space parking area in 2011 by adding a relatively modest and fully removable set of furnishings, along with programming. Wanting to demonstrate the need for vibrant public space, the District rigorously tracked usage patterns during warmer months at The Porch at 30th Street Station. For more information, click the links below:
July 2016
Alley activation may provide public space, and more customers — Efforts are underway in Austin, TX, to raise awareness around the potential of alleys to reduce congestion on busy retail corridor sidewalks, attract more customers to back-of-business amenities, and to provide public gathering spaces in the city center. Read the Downtown Alley Activation Plan adopted by the Austin city council in 2013.
City centers explore more relaxed open container laws — Downtown leaders in communities nationwide are exploring the option of allowing consumption of alcoholic beverages in designated districts, or at specific events. Click the links below to learn about the open container law in Alpharetta, GA.
Housing study defines residential development direction — A recent analysis of the residential market potential for downtown Kalamazoo, MI (est. pop. 74,262), and several surrounding neighborhoods has given the city vital information to encourage more, and the right kind of, residential development. Read Kalamazoo's Analysis of Residential Market Potential here.
Making a plaza out of thin air — A feasibility study from the District Department of Transportation finds that a public plaza above a sunken stretch of Connecticut Avenue in Washington D.C. is feasible.
Downtown plan focuses on the small and achievable — The downtown plan for Gretna, LA, released earlier this year, focuses on small but effective ways to enhance the downtown area.
Slimmed down plan engages public — The redesigned and user-friendly 2016 Essex Town Plan has won the Vermont Planners Association Plan of the Year award.
June 2016
Farmers market helps revitalize the downtown — The opening of a new downtown farmers market in 2013 is being credited with driving the local food movement and the launch of new businesses in Corbin, KY. View a video about the Downtown Corbin Farmers Market here.
Know your energy efficiency options — Helping small businesses save money is as important to keeping their doors open as helping them make sales. Many agencies offer programs aimed at supporting small business owners through energy savings. See the links below.
Liquor licenses aid redevelopment — The city of Zeeland, MI, is hoping to spur development with a Redevelopment Liquor License. Learn more here.
Pattern Book guides the way to greening vacant lots — The Green Pattern Book was created as part of the Growing Green Initiative of the Baltimore (MD) Office of Sustainability. Download a copy here.
May 2016
Why street trees matter — Recent studies indicate that street trees not only reduce pollution, but that there is a return on investment for cities with strong street tree programs — healthier, happier, more productive residents. Read the USDA's report Sustaining America's Urban Trees and Forests.
Incubators prove their worth — Providing incubator space for start-up businesses is a trend that will grow stronger as those first start-ups attain independence and fill downtown vacancies. Below are two archive articles describing successful projects.
Create a downtown where businesses want to be
— By educating business and property owners, launching cleanup and beautification efforts, and connecting with the real estate community, Denison, TX, has improved downtown occupancy without actively recruiting. The downtown organization produced three guides for business and property owners.
Walking tour leads to downtown turnaround — In a recent blog post, Roger Kemp describes the downtown walking tours he took with members of Meridian, CT's management staff. The goal was to identify, "what municipal code corrections and improvements they would recommend to restore and enhance our city's downtown area." See his blog post here.
Revitalizing with arts and culture — The Georgia Council for the Arts has a new report, Leveraging Public Investment in the Arts. It contains a series of case studies demonstrating the importance of the arts as a method to promote tourism, downtown development, business development, entrepreneurism, community identity, and quality of life.
April 2016
Meeting business district needs at every stage of development — While each downtown district is unique, many follow a similar path toward redevelopment. Understanding that life cycle and the appropriate tools for each stage can support long-term growth. Read the Progressive Urban Management Associates report A Management Framework for Downtowns and Commercial Districts.
Creative incentives and broader outreach lead to redevelopment success — Downtown professionals and city leaders discouraged with lackluster RFP responses or development agreements which have fallen through should look to Palatka, FL, for inspiration. After three rounds of RFPs the city has a new riverfront park and marina. View a 2010 concept video of the Riverfront Park Master Plan.
Comprehensive Complete Streets plan recognized — The City of New Britain, CT, has earned a National Recognition Award for exemplary engineering achievement from the American Council of Engineering Companies for its Complete Streets Master Plan for downtown.
March 2016
Taking advantage of downtown transit — By carefully positioning itself to capitalize on the new Dallas Area Rapid Transit (DART), the city of Plano, TX, was able to transform a downtown spiraling into decline into a thriving city center flush with new investment. For more information, see the links below:
• View two videos about projects in downtown Plano
• Read the Downtown Plano Vision and Strategy Update
Targeted development project breathes new life into former school campus — Long-range planning, targeted business recruitment, and creative financing have allowed the city of Bothell, WA, to meet the dual goals of retaining a historic school building while also incorporating the property into its long-range vision. Read more about the reconfiguring and revitalization of Bothell's downtown.
Public art project enhances walkability, boosts neighborhood pride — The new Mockingbird Trail in the Flagler Village neighborhood of downtown Fort Lauderdale, FL, promotes walkability while also creating a sense of place. Click here to see the fundraising video used to garner support for the Mockingbird Trail.
Keeping investment dollars local — The Local Investing Opportunities Network (LION) brings together local investors with business owners in need of loans or equity in Port Townsend, WA. LION's mission is, "to build prosperous local businesses, keep investing money in our community, and help build a more resilient and sustainable economy in East Jefferson County."
• Read an October 2012 Downtown Idea Exchange article about LION here.
• Watch a video about LION here.
February 2016
The live, work, play urban lifestyle, with an emphasis on play — The Play Streets program in New York City allows schools and community groups to set aside streets on quieter blocks as car-free spaces for active play and physical activity. See below for more information:
• Play Streets definition and process
• Play Streets application and petition
Zoning changes enhance walkability, encourage public transit use — An update to ordinances in Indianapolis, IN, titled Indy Rezone, aims to discourage driving in the city center by reducing the required number of parking spaces for development projects while also calling for green space and improvements to lighting, sidewalks, and more to enhance walkability and transit use. Click here to read the Indy Rezone Ordinance.
Contest nets new ideas for public spaces — The nonprofit Sustainable Connections in Bellingham, WA, launched a placemaking contest at the beginning of 2015 that has led to several successful temporary and permanent projects. View the contest web page.
Surveys guide downtown development — In Bel Air, MD, a series of surveys is being used to provide municipal leaders with feedback before proceeding with projects, including a new wayfinding system and an updated comprehensive plan. See the Destination/Wayfinding survey and the Comprehensive Plan Update Survey here.
January 2016
Providing broadband key to city-center growth — Since 2009, the USDA has awarded 74 Community Connect grants totaling more than $77 million to build broadband projects in rural areas that previously did not have broadband service. For more information about USDA grants and loans, click the links below:
• Telecommunications Infrastructure Loans & Loan Guarantees
December 2015
Pedestrian safety over the holidays — The city of Seattle, WA, conducted a five-year Center City Holiday Pedestrian Safety Campaign to help meet its goal of eliminating serious injuries and fatal crashes by 2030. View the PSA for the campaign here.
Dedicated committee helps move pedestrian and biking issues forward — The city of Eau Claire, WI, has created a citywide Bicycle and Pedestrian Plan, which was adopted in 2010. The objective of the plan was to examine the current pedestrian and bicycle environment in the city, and outline initiatives that could be enacted over the next two decades to improve walking and bicycling.
Six lessons for developing upper-story housing — Adaptive reuse projects across Iowa are serving to repurpose vacant buildings, increase available downtown housing, get more feet on the street, increase property tax revenue, and spur additional nearby projects. Those were some of the findings of a recent report from the National Main Street Center.
Creating a unique urban asset — The city of Grand Rapids, MI, is revitalizing its Grand River to, "attract talent and elevate the city as a unique destination, a catalyst for development, and an amenity for the region." Read the Grand Rapids Forward: Downtown & River Action Plan and economic benefits report here.
Grant program drives downtown improvements — Giving merchants a financial boost can encourage facade and other improvement projects that might not otherwise be affordable. The Destination Downtown Grant Program in Arlington, TX, was launched to help property owners make buildings more interesting by adding murals, landscaping, facade improvements, awnings, signage, and paint. View the Downtown Grant Program packet here.
November 2015
Downtown uses micro-retail to connect to and activate the waterfront — To connect the downtown to the waterfront, the city of Greenville, SC, developed RiverPlace, a $65 million mixed-use project. Low-cost artist studios are an important part of the project. Click here to watch a video about the studios.
Tools for more walkable city centers — In creating the new report, The Imagining Livability Design Collection, AARP Livable Communities and the Walkable and Livable Communities Institute, developed a collection of short-, mid-, and long-term projects as well as planning and policy solutions to make communities "more walkable, welcoming, and livable."
Primer on downtown retail recruitment — Improving Tenant Mix provides a step-by-step process for retail attraction in central business districts.
October 2015
Making downtown the place for aging residents — Macon-Bibb was the first community in Georgia, and the eighth in the nation, to be designated age-friendly. The Macon-Bibb action plan was developed by a 28-member Community Advisory Council, which identified areas of concern and potential improvement in each of the eight domains of livability established by the World Health Organization.
Providing property owners with redevelopment tools — The Connecticut Main Street Center says it has seen firsthand the power of its Come Home to Downtown program, "to change not just our physical infrastructure, but also the minds of building owners and others who mistakenly think housing isn't feasible downtown." See below for more information:
• Come Home to Downtown program overview
The power of the arts — The Georgia Council for the Arts and the Georgia Municipal Association released a report which illustrates the positive impact of the arts as an economic development tool in Georgia's communities. See the report, Leveraging Public Investment in the Arts here.
There's no parking downtown — In a blog post for the Minneapolis Star Tribune, Nathaniel Hood outlines how to respond to people who complain about a lack of parking.
Increase tourism without losing your soul — Writing in Virginia Town & City magazine, Edward McMahon, a senior resident fellow at the Urban Land Institute, points to nine important actions downtowns can take to increase tourism without, "losing their soul." Read the article here.
September 2015
University Cooperative Extension programs provide revitalization resources nationwide — Partnering with your state's Cooperative Extension program can provide downtown stakeholders with professionally facilitated workshops on a variety of topics related to small business survival, reports that may help make the case for new programming or funding, leadership and volunteer development programs, and more. Read an archive article about the University of Wisconsin-Extension First Impressions Program.
Underutilized park transformed to popular public space — What has been described as, "a worn-out, wasted space," and, "a symbol of urban decay" in downtown Newark, NJ, is now an award-winning "outdoor living room" for city center residents, employees, and visitors. Read one of the weekly newsletters used to promote programming in Military Park.
Integrated infrastructure upgrades create a sustainable, attractive downtown — When the need to replace aging infrastructure loomed in West Union, IA, community leaders decided to pursue a new, sustainable approach.
• See the study A Sustainable Vision for West Union: Integrated Green Infrastructure to Achieve a Renaissance of West Union's Downtown District and Neighborhoods.
• See a video about the West Union Green Streets project.
Ban on cars aims to reduce city center congestion — The Dublin (Ireland) City Council and National Transport Authority have proposed banning private cars from entire sections of the city's downtown core. View the executive summary of the Dublin City Centre Transport Study.
August 2015
Municipal participation, investment, move downtown plan forward — The Our Move Forward plan in London, On, Canada aims to "knit" together spaces in the public realm. View the plan.
New development code built around public input — A new Unified Development Code in Lafayette, LA, is better aligned with the city's comprehensive plan, provides more flexibility to developers, and guides the character of future downtown development projects. See the Unified Development Code.
Bringing entrepreneurs together with seed money and available space — The Motor City Match program in Detroit, MI, is meant to encourage new businesses in the city's commercial corridors by providing support for landlords and entrepreneurs. Below are the guidelines for property owners and potential business owners.
• Motor City Match guidelines for property owners.
• Motor City Match guidelines for business owners.
Incentives reward/enhance business longevity — A new incentive program in Bloomfield, CO, aims to assist existing business owners with improvements to their properties. View the program description and application.
Placemaking lessons — With minor improvements scheduled for a downtown intersection in Berkley, MI, city officials decided to broaden the scope of work and consider creating a public gathering space. Click here to see Experimenting with Place in Berkley.
July 2015
Putting bike parking programs to the test — In Stamford, CT, metal slips able to accommodate two bikes each have been installed around parking meters at about 20 locations throughout the downtown. See a video showing the hitch in action.
Incentives attract businesses while improving buildings — The city of St. Charles, IL, has put together a trio of incentives aimed at improving the downtown building stock while also encouraging new and expanding businesses in ground floor spaces. View incentives brochure here.
June 2015
City streets reopening to vehicular traffic — A nationwide study shows factors contributing to the success or failure of downtown pedestrian malls. Buffalo, NY, provides just one example of a downtown mall transitioning to a complete street. Read the related documents:
Grassroots group tackles historic building rehab — Residents in Windsor, NY, have banded together to raise funds to purchase and rehab an apartment building housed in a historic former hotel. View the fundraising website for the Windsor Inn 1832 here.
Limiting formula businesses downtown — To preserve diversity and an interesting retail mix while also protecting the market share for small business owners, many downtowns are developing restrictions on chain stores. Click here to read San Francisco's Formula Retail Guide.
Mobile workshops bring planning to the people — The city of Laguna Beach, CA, knows a thing or two about updating a Downtown Specific Plan. One lesson learned has been to gather as much input as possible in order to create the most buy-in, thus easing the approval process for the updated document. See the comment cards handed out at every planning event.
Quantifying growth adds to district's powers of attraction — Last October, the Flatiron/23rd Street Partnership BID in New York City hosted a broker breakfast at which it distributed its fourth annual Flatiron: Where Then Meets Now report, showcasing, "the significant development and growth of the commercial and residential sectors in the district." The annual report, supplemented by a Flatiron District Market Snapshot report covering the first two quarters of the year, are used to pique broker interest, and more.
May 2015
Development project connects downtown to waterfront assets — Creation of new live, work, play micro-districts is becoming more common nationwide. These mixed-use developments emulate vibrant downtowns, and when optimally located and connected, can enhance what downtown has to offer. That is the plan in Everett, WA, where the Waterfront Place Central development project is expected to highlight the city's waterfront assets while providing jobs, public gathering space, housing, and essential connections between the downtown and the shoreline. Read the Waterfront Place Central Design Standards & Guidelines.
Cities look to streetcar projects to boost economic development — While some communities remain skeptical about the return on investment seen through streetcar projects, encouraging numbers from cities with completed systems have spurred others forward. Portland, OR, was the first to go with modern streetcars in July 2001. Click here to read Modern streetcars gaining in popularity from the November 2011 issue of Downtown Idea Exchange.
Food truck ordinance struggles continue — The balancing act between protecting brick-and-mortar restaurants and fostering start-up mobile food enterprises continues in many city centers. Read the National League of Cities report Food on Wheels: Mobile Food Vending Goes Mainstream.
Flexible spaces improve occupancy rates — The economies of sharing are becoming more attractive, as evidenced by bike-sharing programs, coworking spaces, and multi-function spaces. Groups such as the health-focused Change Lab Solutions are providing resources including shared space guides, memorandum of understanding templates, liability information, and more to organizations interested in creating flex-use space. For more space sharing resources, see Change Lab Solutions website.
Award winning master plan guides new development — The master plan for Casa Grande, AZ, calls for developing approximately 15 acres of vacant land that the city owns downtown. View their Life on Main Master Plan here.
Farewell to the 9-5 city — The 18-hour city comes of age. That is the number-one finding of the most recent Emerging Trends in Real Estate report .
Connecting downtown parks — With a ground-breaking ceremony in May, Salem, OR, moved a step closer to the goal of connecting three major urban parks to create a unified bicycle and pedestrian network. See the Salem Downtown Parks Connections brochure here.
April 2015
Project restores historic paving, calms traffic, and rallies private support — Many of the streets in historic downtown St. Augustine, FL, have undergone transformations in recent months. The newly designed roads feature enhanced pedestrian and bicycle access, as well as a curbless design that reduces tripping hazards while increasing accessibility. Additionally, many of the oldest streets in St. Augustine, which celebrates its 450th anniversary this September, were restored to clay brick, based on the 1573 town plan. Read the St. Augustine Historic Downtown Streetscape Guidelines.
Ordinance changes, fee reduction, downtown improvements, spur housing boom — When the Downtown Area Plan for Berkeley, CA, was adopted in 2012, housing growth was a cornerstone strategy. In coordination with adoption of that plan were approvals of new design guidelines, new zoning, a Streets & Open Space Improvements Plan, and more. Below are links to the:
Nationwide programs help downtown become more energy efficient — The U.S. Environmental Protection Agency and the U.S. Department of Agriculture have programs beneficial to downtown property owners and tenants. Click here to read the USDA Rural Development Program Guide.
March 2015
Strategies for creating pedestrian-friendly city centers — When Gary Ferguson, executive director of the Downtown Ithaca Alliance in Ithaca, NY, studied small towns, he found a dozen similarities among successful city centers, including walkability. Read Ferguson's report Characteristics of Small Towns, Shared Attributes of Outstanding Small, Mid-Sized Downtowns.
Click here to see the West Palm Beach Walkability Study and the Salt Lake City Mid-block Walkway Design Guidelines.
Guide to improved pedestrian safety — Cities may take advantage of this practical guide to complete their own Pedestrian Safety Assessments.
An alternative to free holiday season parking — Each Christmas season, downtowns across North America cover their on-street meters and entice shoppers downtown with free parking. But Donald Shoup has another idea, which he says will result in a positive use of parking revenue, improved access to on-street parking, and a positive image for downtown. Shoup explains in an article, in ACCESS magazine.
February 2015
Street music can be enjoyable, but complicated to provide — Classic holiday songs performed by live musicians can add a festive touch to downtown streets during the holiday season. But you must adhere to the music licensing requirements or you can face some stiff penalties. Below is information from ASCAP and BMI, two of the more prominent music licensing groups.
BMI music licensing for towns, counties, municipalities, and other local governmental entities
Efforts underway to attract ultra-high-speed Gig Internet networks downtown — Residents, businesses, and municipalities everywhere are seeking cheaper, faster, more reliable Internet services. Rather than waiting for service providers to come to them, some communities are reaching out to express their needs, quantify their customer base, and see what they can do to facilitate the arrival of more accessible, faster Internet service.
Click here to view the RFQ and instructions for submitting a municipal addendum in Connecticut.
For more information about the effort in Three Lakes, WI, read Broadband and economic development go hand in hand from the March 2013 issue of Downtown Idea Exchange.
Temporary project drives permanent change — The typical Better Block Project lasts a day, or at most, a weekend. These volunteer-based projects, create on a temporary basis the infrastructure improvements, business mix, amenities, and programming that residents would like to see on a more permanent basis. In St. Joseph, MO, this grassroots tactic has been so successful that it has become an annual event.
Click here to view the Better Block of St. Joe vendor application.
For more information about Better Blocks projects, read Demonstration project makes downtowns better from the April 2014 issue of Downtown Idea Exchange.
Facade improvement programs produce real economic benefits, study says — Increases in new customers, rental incomes, and property values were seen in a recent study of the impact of facade improvement programs. Read the study, An Analysis of Downtown Storefront Improvements.
Enhancing retail options in underserved communities, lessons for all —
A new report from the Urban Land Institute explores factors that hamper retail development in some lower-income communities and offers solutions to overcome limited shopping options. Read the full report here, Retail in Underserved Communities.
Disaster recovery tool kit — The International Economic Development Council has created a new resource to help "disaster-impacted" communities recover in meaningful ways. Click here for the full report, Leadership in Times of Crisis.
"Legacy cities" can revitalize by building on assets — Enduring assets such as downtowns, parks, transit systems, and academic and cultural institutions are the key to revitalization for struggling industrial cities, says the report Regenerating America's Legacy Cities from the Lincoln Institute of Land Policy.
January 2015
Disaster preparedness is key to excellent stakeholder service — Downtown organizations that resolve to work on emergency preparedness with their local governments are less likely to be left out of response efforts in the wake of disaster, says David Downey, president of the International Downtown Association. Click here to see the Lower Manhattan Update One Year After Hurricane Sandy.
December 2014
12 strategies that will transform your city's downtown — Contributor John Karras shared his insights in the newsletter. Read an expanded version here.
Business contests yield multiple benefits — Holding a new business contest allows downtown organizations to make contact with, and provide guidance to, numerous entrepreneurs who could become downtown tenants. Read an archive article from sister publication Downtown Promotion Reporter titled, Contest promotes business attraction and expansion.
Grant program enlivens downtown sidewalks — With the downtown an economically stable commercial center, but, "totally dull," the Pittsburgh Downtown Partnership in Pittsburgh, PA, created a new grant program in 2007 to encourage restaurateurs to bring new vitality to city streets.
Click here to view the Sidewalk Activation and Facade Improvement Matching Grant Design Guidelines and application.
November 2014
Best Complete Streets policies cited as model for other communities — Communities nationwide are embracing Complete Streets policies that make roadways safer and more accessible for every type of user. According to the National Complete Streets Coalition, last year more than 80 communities adopted Complete Street policies. Read the executive summary of The Best Complete Streets Policies of 2013.
Honing focus on why downtown matters drives improvements — Creating a sense of community pride can lead to revitalization downtown. In Xenia, OH, the recession had brought the community nearly to its knees, yet a show of community spirit and a fresh coat of paint have launched dramatic changes for the better. Read the archive article, Contest rallies downtowners to support their communities in 2014.
October 2014
Bicycle lanes, stations, and share programs becoming increasingly popular — As Americans become health and environment conscious, more commuters, as well as recreationalists, are learning the value of pedal power. As a result, projects to boost bike-centric amenities in city centers are flourishing. Read the Center City Seattle Bicycle Amenity Inventory and the Seattle Bicycle Master Plan.
Community vegetable gardens sprouting up in urban centers — Underutilized public space is being converted into community gardens in some city centers. These productive green spaces beautify downtowns, provide gathering space and public education, and are a source for locally grown foods. Learn 10 steps to starting a community garden from the American Community Garden Association.
To enhance late-night activity, consider pilot programs — As cities endeavor to balance growing residential uses with the promotion of late-night activity, they should not play it safe, or expect to get every policy right on the first try. Read Edward Glaeser's Boston Globe article, Better nightlife through experimentation, in its entirety.
Sidewalk displays brighten downtown streets — The Sidewalk Display Program of the Downtown Development Authority in St. Louis, MO, was designed to, "create an 'alive' downtown atmosphere that attracts shoppers, encourages pedestrian activity and is eye-catching to car traffic." See details on the program, the permit application, and Hold Harmless Agreement.
Underpasses as inviting gateways — Pedestrian tunnels passing under a road or railroad have a reputation for being dark, dingy, unwelcoming places. But in San Jose, CA, all that changed when a downtown underpass was re-imagined to include circles of LED lights that change color as pedestrians pass over the underpass. Click here to see photos.
September 2014
Using urban green space to create connections — Ambitious projects to revitalize underutilized green space in Charlotte, NC, are improving the quality of life for residents, employees, and visitors. See the resources: video, master plan, and fact sheet.
Streamlined permit process doubles downtown events — Cumbersome permitting requirements downtown can discourage event producers, who instead opt to host those crowd-drawing festivities outside of the city center. El Paso's online permitting process has helped.
Green niche strategy brings more businesses downtown — Waynesboro, VA's green business initiative stimulates interest in start-ups and provides expansionary loans. See a brochure on the program.
Dealing with multiple downtown vacancies requires perseverance and a plan — Like many older buildings, the "bookend buildings" in Burlington, IA, have suffered disinvestment and decay. But no longer, see the Bookend Buildings RFP, the Investment Proposal, and the Vision for Downtown Redevelopment report.
Preserving the federal historic tax credit — As the federal historic tax credit came under attack in congress, the National Trust for Historic Preservation commissioned research to look at the economic benefits of historic rehabilitation. Read Federal Historic Tax Credit: Transforming Communities.
August 2014
Survey allows rapid response to misperceptions — The Downtown Norfolk Council conducts a Usage and Perception Study every few years to gauge how residents throughout the region view the city center. View the executive summary here.
Crime deterrents boost economic development — In part, the success of the Billings [MT] Crime Watch for Business program, comes from announcing the program to would-be lawbreakers.
Participating businesses receive window clings, and the downtown has signage designating it as a Crime Watch district. Additionally, brochures were printed containing safety tips, emergency numbers, and even the cell numbers of the downtown resource officers. See the Crime Watch brochure.
New tax will fund vital streets — As Grand Rapids, MI, embraced complete streets, two important documents were developed.
Innovation districts offer live, work, play options to attract businesses and residents — Former industrial sites and other spaces in and adjacent to downtowns are being transformed into live/work/play districts attractive to innovative companies and their employees. Two reports provide useful background.
Series of events to educate and engage the public follows merger of two downtown groups — Learn more about the merger that created REV Birmingham.
July 2014
Report quantifies downtown's value citywide — As a supplement to its annual report, the Downtown Partnership of Baltimore, prepared a companion analysis, Downtown Baltimore: Its Impact on the City Economy. The report shows that the downtown more than carries its weight and propels the rest of the city forward.
Gen Y still likes to shop in stores — A new report from the Urban Land Institute, Generation Y: Shopping and Entertainment in the Digital Age, looks at the preferences of this group and has good news for downtown retailers.
June 2014
Business retention and creative sponsorships fund programs and services — The Delray Beach Downtown Development Authority produces a Next Big Projects brochure highlighting development projects and providing a timeline and the dollar value of the work.
The Authority funds its work, in part, through a creative Legacy Partners Program. Here is a copy of the one page program contract.
Real estate matchmaking provides service to BID members and prospective tenants — The Site Seeker program allows the Downtown Dayton Partnership to provide a valuable service to members while also attracting new businesses to the city center. This simple online application starts the process.
Program engages youth, beautifies utility boxes — The Out of the Box Mural project has been a success in downtown Stockton, CA. Here is the application form and utility box template.
Converting to two-way streets — A report from Louisville, KY, considers the advantages and disadvantages of converting downtown streets from one-way to two-way. Read the full report Downtown Louisville Two-Way Street Study.
May 2014
Vibrancy plan is a living, evolving document — Publication of the Stowe [VT] Vibrancy Report, was just the beginning as local groups honed the recommendations and moved many of them into the implementation phase. See the full Stowe Vibrancy Report.
Providing simple seating drives change in public spaces — Making lighter, quicker, cheaper improvements can mean something as simple as providing seats in public spaces. See how Belfast, ME, is using seating to drive foot traffic through an expanding downtown business district.
Economic impact of winter weather — Severe winter weather in many parts of the country has taken a toll on downtown businesses. Learn how the Anchorage Downtown Partnership and others cope with snow removal.
April 2014
Giving residents a seat at the BID table — The rising popularity of urban living has pushed some business improvement districts to give downtown residents a "voice" in what has historically been a business-centered organization. See how the a SoHo BID in New York City handles assessments for residential members.
Micro-condos becoming part of the urban housing mix — For suburban homeowners, small is in. And the same may well apply to in-town living, with those smaller spaces sparking updated ordinances and new incentives to attract developers. But just how small are these new micro-apartments? Take a look at this brief video.
Task force initiatives lead to reinvestment downtown — Nine initiatives of the Downtown Eugene Safety Task Force have created momentum for improvements in housing, employment, entertainment, and education. See the task force recommendations in full.
March 2014
Generating community engagement for future projects — The 150th anniversary celebration in Evanston, IL, included the Evanston 150 project, a yearlong effort to gather stakeholder ideas for 10 significant improvement projects. The program was based on a similar initiative in Dubuque, IA. Click below to see the 10 big ideas from each city:
January 2014
Small businesses will be going greener in 2014 — Up until recently, the primary focus of energy conservation programs was on larger buildings of over 100,000 square feet. Thanks to the research Preservation Green Lab has done, there is a rising awareness of some really significant energy saving opportunities to be had in Main Street communities, smaller neighborhoods, and commercial districts. Learn more at the Preservation Green Lab website.
Report highlights importance of citizen input in placemaking — A new report by a MIT Department of Urban Studies research team examines the interactions between placemaking, community participation, and the expanding ways communities are collaborating to make great public places. Read Places in the Making.
December 2013
Saving historic theaters is an economic development mission in many communities — When the functions of a theater cannot be saved, the building can still be repurposed in ways that revitalize downtown. For example, the shuttered Fox Theater in Hays, KS, was reopened as an event space. Read the archive article from Downtown Idea Exchange.
Partnerships enhance annual retail recruitment event — The Downtown Committee in Syracuse, NY, is attracting new businesses to the city center through an annual event that highlights the resources available to potential retailers. See the Retail Recruitment Event brochure.
Leadership programs benefit businesses and communities — Offering a leadership training program can not only provide downtown businesses with more skilled employees, but the community with stronger civic leaders, and with skilled volunteers to complete city center projects. View the Leadership Frederick County Leaders on Loan program application.
No downtown organization is an island: Maximizing partnerships — Learn how your downtown organization can maximize the potential for partnerships.
Best practices for food truck integration — A new report from the National League of Cities shows municipal officials how they can incorporate food trucks into the city's existing business community.
November 2013
Container Park fills vacant space with entrepreneurial opportunities — To create a community gathering place, give entrepreneurs affordable space to launch business ventures, and bring new energy to the city center, the Downtown Project purchased one and one-third acres of land and designed a park complete with an interactive playground, public art, an outdoor performance venue, and more. Rather than incur the costs and time demands of new construction, the park features repurposed shipping containers and locally manufactured Xtreme Cubes. View the Container Park video.
Fostering artistic careers, building artistic neighborhoods — An innovative pilot program in Cleveland, OH, is providing affordable artist housing while building a stronger creative economy for the city. A low-cost weekend familiarization trip was marketed to the group's database. See detailed information on the Collinwood project and background reports from the Rust Belt to Artist Belt conference.
From the Rust Belt to Artist Belt, Executive Summary
From the Rust Belt to Artist Belt, Companiion Report
Libraries: a valuable ally in economic development — In their bid to remain relevant in an increasingly bookless society and to survive municipal budget cuts, libraries are evolving into valuable downtown partners. Read the report Partners for the Future: Public Libraries and Local Governments Creating Sustainable Communities.
October 2013
It's time to rightsize old streets to better meet the needs of new users — Rightsizing is the process of reallocating street space to better serve the full range of users. See the FHA's Summary Report on the impact of rightsizing on crashes.
Art installations create support for more art — In Durango, CO, the city is learning that the more public art it has, the more public art people want to see. Donations of art, as well as pieces on loan, are multiplying throughout the community. View the Durango Art Donation Agreement.
Gen Y still likes to shop in stores — Despite being far more tech savvy than previous generations, Generation Y has not traded shopping in stores for online purchasing says a new report from the Urban Land Institute.
September 2013
Successful crowd control enhances downtown events — The September issue of Downtown Idea Exchange highlights key practices from the Police Executive Research Forum report, Managing Major Events: Best Practices from the Field. Click the link to read the full report.
Parking plan maximizes on-street parking for downtown customers — The focus of the Downtown Parking Solutions Project in Hillsboro, OR, was two-fold: first, to identify ways to better manage Hillsboro's existing parking situation, and second, to examine long-term strategies that would address downtown density going forward. The Executive Summary from the project report is online here.
August 2013
Grassroots planning summit yields vision for downtown — After 20 years, most of the recommendations from the Intown Manchester Development Plan in Manchester, NH, have been accomplished. However, Intown Manchester didn't want to "rest on its laurels." Instead, the organization convened a day-long Next Steps Summit. Read the Next Steps Report.
July 2013
Creating walkable downtowns — View the 2013 sponsorship solicitation materials for Intown Manchester's Custom Banner Program.
June 2013
Communities growing DIY grocery stores — To help members and other supporters of the Hudson Grocery Cooperative spread the word, the group created talking points for face-to-face promotion, as well as a sample email letter that could be shared electronically. Read the talking points here.
Recovering from natural disasters — Scott Teel, marketing director for Agility Recovery, is a strong advocate for early education to ensure that downtown businesses have solid plans in place well before disaster strikes. Read our report on Teel's presentation The Top 10 Most Common Mistakes During a Crisis.
Incubator attracts retail to the downtown — In early 2010, Downtown Idea Exchange first reported on this incubator program. Click to read the article First store opens under retail incubation program enabled by state legislation.
May 2013
State of downtown reports quantify value, attract investment — Creating an effective state of downtown report can quantify the value of your downtown organization's work to the economic health of the city, and attract more investment. The May issue of Downtown Idea Exchange covers how to create a state of downtown report. Here are samples:
Charlotte Center City Partners
Dedicated recruitment staff draws businesses — In York, PA, a recruitment specialist is bringing retailers downtown. This article in the May issue of Downtown Idea Exchange provides the details. This Web Extra shows the recruitment brochure.
Guerilla placemaking provides downtown character — Individuals and groups around the nation have begun "guerilla placemaking" initiatives to bring some of the grit, color, and character back to their city centers. This article covers activities such as knit graffiti and the Eye Love You project. The I Wish This Was project was covered previously. You may read the article Innovative outreach leads to creative public input here.
April 2013
Existing businesses weigh in on incubator services and tenants — This article in the April issue of Downtown Idea Exchange reflects the findings in A New Small City Business Incubator: A Business Community's Attitudes and Desired Services.
Incentives and rezoning stimulate downtown housing — Knowing your market potential, offering incentives, creating appropriate zoning to make growth possible, and facilitating connections between the city, developers, and potential residents all play a role in creating more housing downtown. In Ithaca, NY, several housing projects are underway, with a targeted effort to attract even more. View details on the tax abatement program offered to developers.
Downtown beauty can be a community effort — Main Street Gardnerville in Garnerville, NV, has an all-volunteer Flower Committee keeps downtown festooned with blossoms from spring through early fall. View the Adopt-a-Pot brochure and care instructions.
Partners cut ribbons on incubators — The Edge: Center for Entrepreneurship and Innovation opened last September in downtown Tuscaloosa, AL. View The Edge's Coworking Membership Application and Agreement.
March 2013
The smart math of mixed-use development — This months Perspectives column was based on the work of Joseph Minicozzi, which originally appeared at the Planetizen website. You may read the original article The smart math of mixed-use development now.
Affordable housing crowdfunding pilot program — Our March article New online platforms support downtown projects includes information on a crowdfunding pilot program in Ottawa, ON, Canada. Click here to read the white paper Crowdfunding Affordable Housing.
Work space, programs, and events support start-ups — This month, we reported on the Alliance for Downtown New York's business incubator, Hive at 55. You may also find our recent article Cowork incubators foster start-ups and fill vacant spaces useful.
New fund for arts businesses — The City of San Jose, CA, has established a Creative Industries Incentive Fund that provides financial support to commercial businesses rooted in the arts. View the program application and guidelines.
Tapping into the office-worker market — Despite the barrage of information on shoppers moving their spending online, a recent research report by the International Council on Shopping Centers shows a healthy amount of spending by office workers as well as opportunities for retailers, restaurants, and service businesses. Read the report Office Worker Retail Spending in a Digital Age.
February 2013
Five keys to downtown success — The report The Value of Investing in Canadian Downtowns contains five keys to success, which downtowns can use to measure their progress and shape their futures. We provide a summary in this issue of Downtown Idea Exchange. Here is the full report.
Healthy living, healthy businesses, healthy budget — This article covers an ambitious project in Ottumwa, IA, which includes an incubator for local food-related businesses. For more articles on how the locally-grown movement is benefiting downtowns, click below.
Local foods and culinary offerings basis of downtown tourism niche
Bringing 'locally grown' downtown
A new plan for sustainable BID funding — The goal of many BIDs is to ensure a stable, long-term funding source, but if you don't have a fair and equitable assessment plan or a good mechanism for collection, that can pose real problems. See the Downtown Boise Association Business Improvement District Assessment Billing Proposal.
Small cities continue to rise in popularity — U.S. Census data shows that cities in small metro areas are gaining population. Read the full report City Versus Suburban Growth in Small Metro Areas.
January 2013
Grant program encourages targeted retail development — One successful way to encourage specific businesses to open exactly where they are needed downtown is to tie financial assistance to those locations. The following materials support the Louisville, KY, program detailed in this article.
Louisville South Fourth Street Retail Merchandising Plan
Louisville Retail Grant Program application
Streets that work better for people, bikes, transit — The National Association of City Transportation Officials has released the Urban Street Design Guide. From bus rapid transit to bikeways and public seating, the guide showcases a new model for streets that work better for people, bikes, transit, and cities.
Read it here.