> Home > Books and Reports > Marketing and Promotion
How to be Successful at
Sponsorship Sales
8-1/2" x 11", soft cover,
235 pages, Allen
Consulting, Inc., $50.

This is no longer available from us.

We recommend Event Sponsorship.
If your downtown isn't aggressively seeking and working with event sponsors, you're missing an important revenue stream for your event, your organization, and your community.
To help you get the sponsors you need, the Downtown Research & Development Center is pleased to present How to be Successful at Sponsorship Sales. This comprehensive collection of articles provides everything you and your downtown need to know to get your share of the available sponsorship dollars — from local, regional, and national sources.
The articles will guide you through the following six steps in developing and implementing your sponsorship program:
Taking inventory of your event and what you have to sell.
Determining the various levels of participation you will offer.
Researching and qualifying potential sponsors.
Developing your marketing program and materials.
Soliciting sponsors.
Working with your sponsors before, during, and after the event to ensure continued participation.
The techniques provided in How to be Successful at Sponsorship Sales have been used in communities of as few as 1,500 people and for events that attract millions — they can work for your downtown, too.
Table of Contents
1. Getting Started
12 steps to sponsorship success
Factors affecting sponsorship decisions
Where to place sponsorship dollars
Where to find sponsorship dollars
How to start evaluating your property
Sponsorship sales fact sheet
Barter as part of the sponsorship mix
The annual report ... a powerful sales tool
Proposal writing/proposal assessment
How to value your event components
Understanding the sponsor's review process
2. Sponsorship Partners
Without media, your sponsorship package lacks strength
What television looks for in a sponsorship partner
What radio wants in a sponsorship
Why a retail partner
Partnering with your local cable company
Billboards as part of your sponsorship program
Partnering with your local newspaper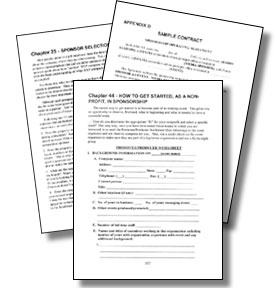 3. Know thy Sponsor
Hospitality: The silent benefit
Using sponsorship for business-to-business purposes
How to get the most value from your sponsorship
Sponsor selection criteria
What sponsors don't want to hear
Why sponsors renew/buy
Sponsors want a return on their investment
4. Making the Call/Getting the Business
Effective sponsorship presentations
How to write a sponsorship letter that gets response
Five minutes is all you've got: How to make sure your prospect understands your sponsorship
Integration: The key to successful sponsorship
19 promotion ideas
5. Renewals
Managing sponsorship onsite for guaranteed results
Measuring and reporting results
Developing the post-event report
6. Nonprofits/Cause Related Marketing
Evaluating cause marketing: A strategic approach exists
Enhancing your event participation
How to research funders on the Internet
Sponsorship and fund raising: What's the difference?
How to work with corporations: Marketing vs. philanthropic donations
7. Selling Strategies and Techniques
Common problems of sponsorship sales
Getting the sponsor to commit means taking a look at the alternatives
Make your sponsorship a "win-win" by asking the right questions
Selling sponsorships made easy
Strategic selling: How to be more effective
What are the shared qualities of top sellers?
12 reasons why salespeople don't succeed
Six negotiation strategies
Negotiating successfully by phone
How to add value to every sales call
Understanding objections
10 steps to closing every sale
8. Legal Aspects of Sponsorships
Why a contract?
Understanding the concepts of contracts
How to draft a contract
Sponsorship contract checklist
Signatures: How to sign a document properly
Option to renew vs. right of first refusal: Understanding the difference
Keep your ideas safe
Trademarks
Risk management: Minimizing the liability
Ensure your corporate sponsorship income is exempt from income tax
Sample Fact Sheet
Sample Post-Event Report
Sample Contract
Sample Anatomy of an Event and Timeline
Your Guarantee of Satisfaction
How to be Successful at Sponsorship Sales is guaranteed. If you are not 100% satisfied, you may return it within 30 days for a full refund.
About the Author
Sylvia Allen heads Allen Consulting, a special events marketing organization. Sylvia has developed marketing, public relations, and sponsorship programs for a wide range of clients including Garden State Arts Center, San Gennaro Festival, and several downtown improvement associations.