> Home
Downtown Research &
Development Center
For more than 50 years, the Downtown Research & Development Center has provided a forum for exchanging news, information and ideas on how to rebuild the hearts of our cities and towns.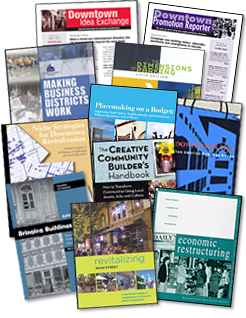 Newsletters
Downtown Idea Exchange. Provides detailed case studies, practical news reports, how-to information and real-world examples of how downtown organizations, business improvement districts, main street communities, and others are growing and prospering.
Downtown Promotion Reporter. Provides the tools and techniques you need to bring crowds of people onto your streets and into your stores, restaurants, and businesses.
Free E-newsletter
Downtown Digest. Our free e-newsletter provides a brief sampling of the high quality news and information in Downtown Idea Exchange and Downtown Promotion Reporter.
Books and Reports
Detailed information on topics ranging from tourism marketing and event sponsorship to building creative communities and parking management.
Perspectives Articles
Insightful and thought provoking articles on pressing downtown issues.
Document Exchange
Direct links to some of the many excellent downtown design guidelines developed throughout North America.