> Home
Annual Trends Report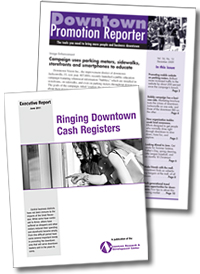 Downtown leaders nationwide are seeking new ways to attract young professionals, and to retain those raised in the community.
This is just one of the trends featured in the article, The rise of millennials will impact downtown promotion in the New Year.
You may read the full article below.
It is also the perfect time to join us as a regular reader of Downtown Promotion Reporter.
As a subscriber, you'll receive:
A full year of Downtown Promotion Reporter. Each month, Downtown Promotion Reporter shows you how to bring crowds of people onto your streets and into your stores, restaurants, and businesses.
Web Extras. Each issue of Downtown Promotion Reporter includes links to valuable background material, additional information, and related resources at the newsletter website.
Ringing Downtown Cash Registers. Covers 11 key marketing trends and opportunities you must act on to keep downtown strong. Sold separately for $29.95, the report is free with your new subscription to Downtown Promotion Reporter.
Learn more about Downtown Promotion Reporter