> Home > Newsletters > Marketing and Promotion
Downtown Promotion Reporter
Marketing the downtown to shoppers, residents, investors, business owners, and visitors.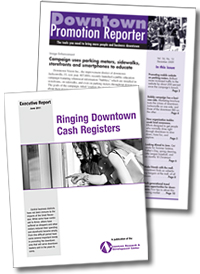 Annual subscription includes. Monthly newsletter. Web Extras. Ringing Downtown Cash Registers
(A $29.95 value). $217.
• Free Sample Download
• Order Details
Each month, in the pages of Downtown Promotion Reporter, you'll find the best and most creative promotion ideas from around the country. It's like sitting down with a dozen of the most experienced downtown marketers and listening in as they share what they are doing now and why.
Over the course of a year you will have assembled hundreds and hundreds of valuable ideas and insights that you can put to work for your community.
Here's just a small sample of what we're talking about in the pages of Downtown Promotion Reporter:
Building a positive image. You'll learn about branding strategies that define and set your downtown apart from the competition, plus wayfinding, physical improvements, public art, special events, and retail promotions that support your unique brand.
Supporting local businesses. Discover shop-local campaigns, cooperative advertising, creative ways to tie-in with festivals and events, dining programs, business training programs, and unique promotions targeting everyone from women to seniors to tourists.
Celebrating the community. Learn how seasonal, holiday and theme festivals and events can introduce newcomers to downtown, build business, and create a strong sense of community. You'll find details on everything from traditional Christmas celebrations, to art and culture events, to speciality food and drink, to creative new celebrations that draw locals and tourists alike.
Business recruitment. Explore how other communities are successfully attracting new businesses that enhance the current business mix and move downtown forward. You'll find details on marketing business owners and site selection specialists though traditional and social media plus site tours, conferences, commercial brokers, and more.
Targeting groups. Learn how other communities are promoting the downtown to workers, residents and visitors through targeted activities such as fashion events, in-town living tours, girls nights out, lunchtime events, and more.
You'll learn how these programs are organized, funded, and staffed. You'll see samples of their marketing and promotional materials including print, online and social media. And you'll learn how to adapt these programs to your downtown.
Web Extras
We often have valuable background material, booklets, guides, postcards, TV and radio ads, and more that we just can't fit in the newsletter. You'll have access to these materials in the Web Extras section of the website.
Welcome gift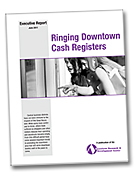 With your subscription, you'll receive Ringing Downtown Cash Registers.
To prepare this report, the editors of Downtown Promotion Reporter talked with over two dozen downtown leaders who identified major trends and opportunities you must act on to keep downtown strong.
Ringing Downtown Cash Registers sells for $29.95 but it is yours free with your paid subscription to Downtown Promotion Reporter.
Risk-Free Guarantee
If you are ever dissatisfied, just let us know. We will promptly refund the full subscription price. The newsletters and free guide you have received are yours to keep.