> Home
Annual Trends Report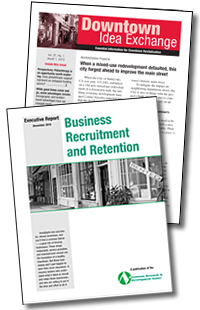 Each year in the January issue of Downtown Idea Exchange, editor Sheila Grant speaks with a wide range of experts to see what the New Year holds for downtowns.
You may read the full report below.
It is also the perfect time to join us as a regular reader of Downtown Idea Exchange. You'll receive:
A full year of Downtown Idea Exchange. Each month, Downtown Idea Exchange brings you detailed case studies, practical news reports, how-to information, and hundreds of real-world examples of how downtowns are growing and prospering.
Three Executive Reports. You will also receive three in-depth executive reports throughout the year. Your first report is the 20-page Business Recruitment and Retention. These reports are sold separately for $29.95 each, but they are free with your subscription to Downtown Idea Exchange.
Web Extras. Each issue of Downtown Idea Exchange includes links to valuable background material, additional information, and related resources at the newsletter website.
Learn more about Downtown Idea Exchange