> Home
Annual Outlook Article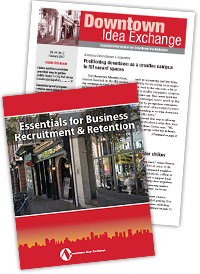 Each year in the January issue of Downtown Idea Exchange newsletter, Editor Sheila Grant speaks with a wide range of experts to see what the New Year holds for downtowns.
The health of local independently owned businesses was on the minds of many. Other important issues include the shifting roles of downtown organizations, and the increasing emphasis on activating the city center through events, arts, and culture as a means to economic growth.
You may read the full issue now. Then join us as a regular reader of Downtown Idea Exchange.
Learn more about Downtown Idea Exchange