> Home > Newsletters > Economic Development
Downtown Idea Exchange
Provides detailed case studies, practical news reports, how-to information and hundreds of real-world examples of how downtown organizations, business improvement districts, main street communities, and others are growing and prospering.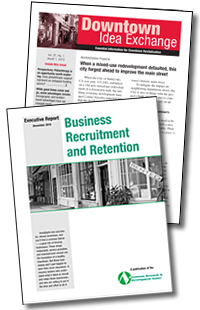 Monthly. 12-page newsletter.
Plus three Executive Reports throughout the year. $227.
For more than 50 years, downtown leaders have turned to Downtown Idea Exchange for ideas, insights, and solid information on downtown revitalization.
It's the one publication they trust for authoritative and actionable information, which can be converted into real improvements in their downtowns.
Now, you can have the same advantage.
When you subscribe to Downtown Idea Exchange, you'll not just read, but use,
in-depth information on how:
Downtowns are funding and operating successful programs and improvement projects — how they use traditional and nontraditional funding sources, including grants, special assessments, membership funding, corporate support, income-producing projects, tax breaks, and more.
Downtowns are bringing the best businesses downtown — how they support their current businesses while targeting, finding and convincing new stores, restaurants, office tenants, and others to locate downtown.
Downtowns are improving parking — how they ensure an adequate supply of parking for downtown workers, residents, shoppers and other visitors, how they add spaces, finance parking programs, evaluate the benefits of on-street versus off-street parking, overcome negative perceptions about availability, and more.
Downtowns are organizing for action — how key associations, improvement districts, task forces and government agencies are working together for maximum impact, turning opponents into allies and building active membership bases for their downtowns.
Downtowns are fighting blight and improving streetscapes — how they are preserving downtown buildings, making facade improvements and adapting outdated structures to new uses.
This is just a small sample of the kind of information Downtown Idea Exchange brings you each month. It's the information you need for long-term economic development downtown.
Your Subscription Includes Web Extras
We often have valuable background material, additional information, or related resources that we just can't fit in the newsletter. You'll have access to these materials in the Web Extras section of the website.
You'll Receive Three Executive Reports — an $89.95 value
With your first issue, you'll receive the timely report, Business Recruitment and Retention. Then in August and February, you'll receive two brand new reports covering topics such as:

Improving downtown parking
Funding downtown improvements
Building support for the downtown organization, and
Setting priorities for growth.

These reports are sold individually for $29.95 but they are free with your subscription to Downtown Idea Exchange.
Risk-Free Guarantee
If you are ever dissatisfied, just let us know. We will promptly refund the full subscription price. The newsletters and executive reports you have received are yours to keep.